TDK Technologies Ranks in the Top 10 IT Consulting and Staffing Firms: St. Louis Business Journal
ST. LOUIS (July 11, 2019) – TDK Technologies, LLC is the 10th largest Information Technology (IT) consulting and staffing firm in the St. Louis region, according to new rankings compiled by the St. Louis Business Journal. With 215 full time equivalent (FTE) consultants or designers on staff, TDK moved up on the publication's annual list for the third consecutive year.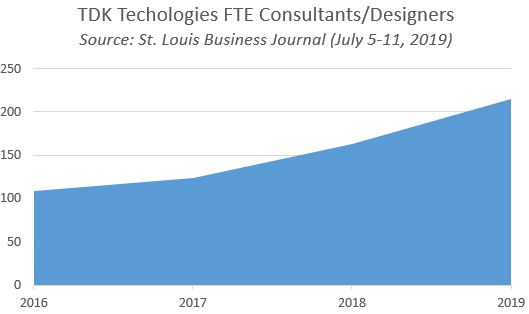 Since 2016, TDK increased the number of FTE consultants and designers at the firm by 97%, based on exceptional growth in the firm's custom software project solutions and staffing practices. The company retains technology professionals to support a growing customer base that requires software technology solutions.
"People are at the core of our business. TDK is dedicated to finding the most talented software professionals available to support our clients," said TDK Managing Principal Kristin Tucker. "The growth rate is truly impressive with all credit going to the technology professionals who deliver exactly what our clients need. On time and on budget."
Core TDK competencies are delivered through the firm's custom software project solutions practice and staff augmentation services. The St. Louis Business Journal noted 59% of TDK's revenue is technology consulting for the reporting period, with 41% of revenue from technology staffing.
"The marketplace for technology talent is very challenging, with demand surpassing supply by a considerable margin. That fact, combined with the growth rate TDK has experienced, shows our relentless focus on adding the best and brightest to our team," said TDK Principal David Kocs. "We anticipate the growth trajectory will continue as organizations of all sizes continue implementing technology to improve their operations."
About TDK Technologies
TDK Technologies, LLC is a Woman-owned Business Enterprise (WBE), established in 2001, located in the St. Louis metropolitan area. TDK Technologies provides information technology consulting and custom software development for businesses through either staff augmentation or outsourced project solution delivery. For more information about TDK Technologies - visit https://www.tdktech.com. They can be reached at (636) 778-1404 or info@tdktech.com.