TDK Technologies Staff Augmentation Division Ranked Among Region's Largest in 2020
St. Louis – January 21, 2021 - In rankings compiled by the St. Louis Business Journal for 2020, TDK Technologies, LLC (TDK) remains the 19th largest St. Louis area temporary/flexible staffing company, the same position the company held on the list the previous year. The ranking is based on revenue derived from temporary/flexible placements.
With $8.19 million in annual revenue through November 2020, TDK's temporary/flexible staffing practice accounts for 43% of the firm's total revenue. TDK had 54 placements as of November 2020, with six local recruiters focused on locating candidates with exceptional technology skills.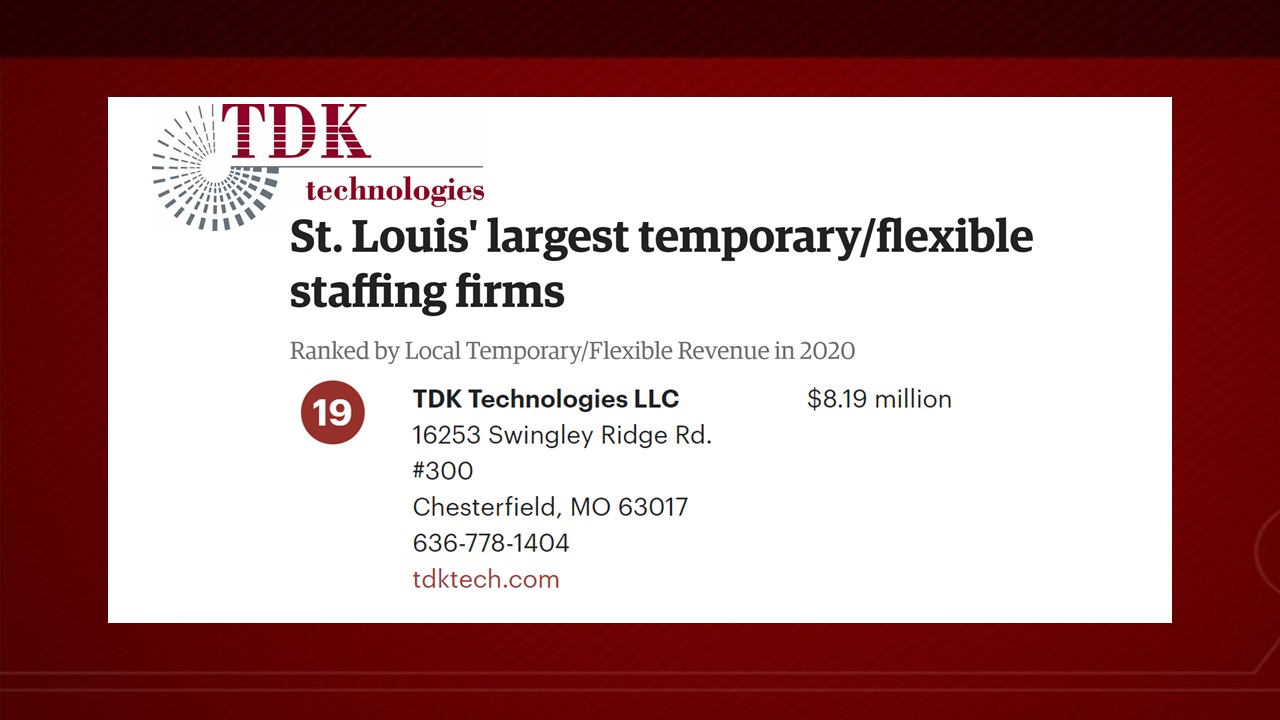 "Despite the challenges of the pandemic, we continue to deliver services our clients need and have come to expect from TDK," said TDK Managing Principal Kristin Tucker. "Quality will always be the driver that keeps us focused on finding the right people, both technical skills and personality, to meet each client's business need."
TDK's business growth has been documented on several publicized lists in recent months.
TDK is #2784 on the 2020 Inc. 5000: The Most Successful Companies in America, the publication's annual guide to the fastest-growing privately held companies in the U.S.
A ranking of #17 on the list of the fastest growing companies in the St. Louis area in the St. Louis Business Journal's 'Fast 50' published in October 2020.
TDK is the 16th largest Woman-Owned Business in the St. Louis Region based on rankings released in August 2020 by the St. Louis Business Journal.
TDK is the 3rd largest software developer and 8th largest IT consulting and staffing firm in the St. Louis region based on July 2020 rankings compiled by the St. Louis Business Journal.
In April, TDK will celebrate its 20th year in business. The company specializes in staff augmentation and custom software delivery for companies ranging from start-ups to Fortune 50 firms.
About TDK Technologies
TDK Technologies, LLC is a Woman-owned Business Enterprise (WBE), established in 2001, located in the St. Louis metropolitan area. TDK Technologies provides information technology consulting and custom software development for businesses through either staff augmentation or outsourced project solution delivery. For more information about TDK Technologies - visit https://www.tdktech.com. They can be reached at (636) 778-1404 or info@tdktech.com.