TDK Technologies Moves Up to 16th Largest St. Louis Woman-Owned Business
ST. LOUIS (August 20, 2020) – For the third year in a row TDK Technologies, LLC (TDK) is listed among the largest woman-owned businesses in the St. Louis region.
Based on 2019 revenue of $25.17 million from IT consulting and custom software development, TDK ranks #16 on the St. Louis Business Journal 2020 list of the "St. Louis' Largest Women-owned Businesses". The company ranked #19 in 2019 and #33 in 2018.
Demand for TDK's offerings, which involves delivering software solutions that solve specific organizational needs as well as providing exceptional technology staffing for businesses, increased in recent years. Gross revenue grew 145% between 2016 and 2019.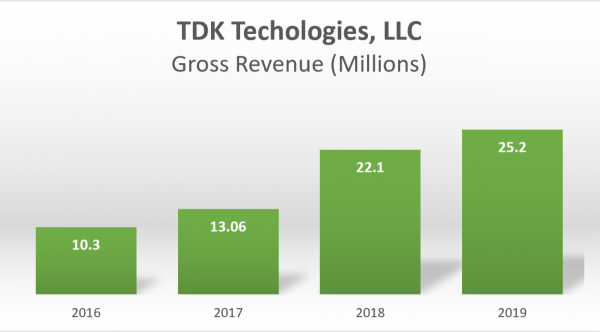 "We are certainly proud to be one of the largest women-owned firms for any industry in St. Louis, as well as one of the region's biggest IT consulting firms," said TDK Technologies Managing Principal Kristin Tucker. "Our dedicated team successfully solves each challenge we face, especially those presented by the current health and economic situation. Our focus on delivering quality services to all our customers remains paramount at TDK."
Tucker, who has previously been recognized by the St. Louis Business Journal as one of the region's 'Most Influential Business Women', co-founded TDK in 2001. The firm serves a wide range of organizations in varied industries with areas of expertise that include Java and .NET development, web/mobile development, project management, business analysis, and quality assurance.
About TDK Technologies
TDK Technologies, LLC is a Woman-owned Business Enterprise (WBE), established in 2001, located in the St. Louis metropolitan area. TDK Technologies provides information technology consulting and custom software development for businesses through either staff augmentation or outsourced project solution delivery. For more information about TDK Technologies - visit https://www.tdktech.com. They can be reached at (636) 778-1404 or info@tdktech.com