St. Louis Business Journal Ranks TDK 16th in Revenue Growth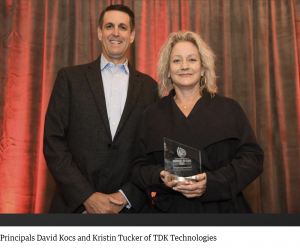 ST. LOUIS (October 19, 2020) – TDK Technologies, LLC moved to #17 on the 2020 St. Louis Business Journal's annual list of the area's fastest-growing private companies, up from #19 the previous year. The Fast 50 list includes privately held companies based in the St. Louis region that had revenue of at least $1 million in 2017 and experienced a revenue increase between 2018 and 2019.
TDK, an Information Technology consulting firm focused on custom software development and providing staff augmentation services, reported a 92.7% percent increase during the survey period with 2019 total revenue of nearly $25 million.
"The credit for our company's growth in recent years goes to our incredible staff of technology professionals. While we all have been tested by the events of this year, we continue to be driven by our fervent desire to deliver exceptional quality for each customer we serve," said TDK Managing Principal Kristin Tucker.
The recognition is the latest for TDK, as the company approaches its 20th anniversary in business serving customers in the St. Louis area.
TDK ranks #2784 on the 2020 Inc. 5000: The Most Successful Companies in America, the publication's annual guide to the fastest-growing privately held companies in the U.S.
TDK is the 16th largest Woman-Owned Business in the St. Louis Region based on rankings released by the St. Louis Business Journal.
TDK is the 8th largest IT consulting and staffing firm in the St. Louis area in the 2020 rankings compiled by the St. Louis Business Journal.
"We've seen ups and downs in our first two decades as a company. This is certainly recognition to savor, knowing our commitment to driving business results for our customers got us here and is the key to continued success going forward," said TDK Principal David Kocs.
TDK serves a wide range of organizations in varied industries specializing in Java and .NET development, web/mobile development, project management, business analysis, and quality assurance.
About TDK Technologies
TDK Technologies, LLC is a Woman-owned Business Enterprise (WBE), established in 2001, located in the St. Louis metropolitan area. TDK Technologies provides information technology consulting and custom software development for businesses through either staff augmentation or outsourced project solution delivery. For more information about TDK Technologies - visit https://www.tdktech.com. They can be reached at (636) 778-1404 or info@tdktech.com.