St. Louis Business Journal Ranks TDK Technologies 8th Largest IT Consulting Firm, 3rd Largest Software Developer in the Region
ST. LOUIS (July 7, 2020) – TDK Technologies, LLC received high rankings in two recent surveys published by the St. Louis Business Journal. TDK moved up two places to 8th position in the annual list of the region's Largest IT Consulting Firms. TDK also is listed as the 3rd Largest Software Developer in the St. Louis area.
TDK 8th Largest IT Consulting Firm in St. Louis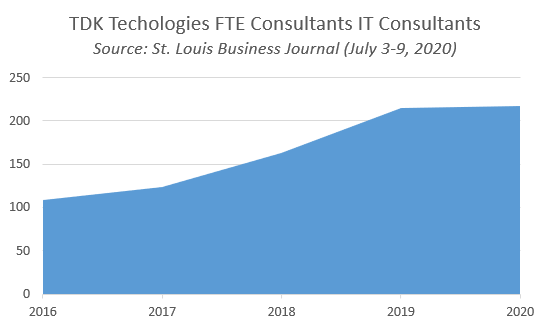 With 217 FTE IT consultants working with the company, TDK shows a 99% increase since 2016 in the category used by the St. Louis Business Journal to determine the region's largest IT consulting firms. The company retains technology professionals to support a growing customer base that requires software technology and staffing solutions. About 60% of TDK's annual revenue comes from outsourced project solution delivery and 40% is derived from staff augmentation.
"As everyone is coming to grips with the dramatic changes to the business climate from the first half of 2020, TDK is in a very strong position to deliver software solutions and staffing for what we are calling the Next Normal," said TDK Managing Principal Kristin Tucker. "We remain rooted in our unwavering commitment to quality in everything we do."
St. Louis Region's 3rd Largest Software Developer
Based on its 152 local software developers, the St. Louis Business Journal placed TDK as the third largest software developer in the St. Louis area.
"We focus on custom software development that solves each client's specific and unique business needs," said TDK Principal David Kocs. "Our approach is always on delivering what is best for the client, which we believe strengthens our existing relationships and opens pathways to new ones."
TDK will celebrate two decades in business next year. The firm serves a wide range of organizations in varied industries specializing in Java and .NET development, web/mobile development, project management, business analysis, and quality assurance.
About TDK Technologies
TDK Technologies, LLC is a Woman-owned Business Enterprise (WBE), established in 2001, located in the St. Louis metropolitan area. TDK Technologies provides information technology consulting and custom software development for businesses through either staff augmentation or outsourced project solution delivery. For more information about TDK Technologies - visit https://www.tdktech.com. They can be reached at (636) 778-1404 or info@tdktech.com.